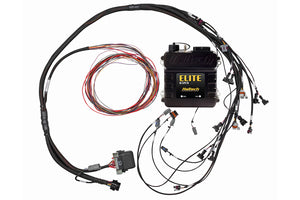 Suits: Bosch EV1 injector connectors and common US style Delco/Bosch GM alternator connector.
Includes: ECU, Engine Harness, & Three Circuit Fuse Block.
Notes: Please confirm your alternator connector (further information available in the product quick start guide) and order an alternator adaptor if required. (HT-040090 or HT-040090)
Notes: Pre-wired to connect directly to OEM 7 Pin Coil Harness Connector
(LS2 Ignition coils and harnesses are NOT included)
E950 ECU Does not support the factory GM idle speed stepper motor control.