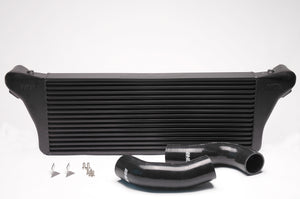 HDi VW Transporter T5 GT2 complete intercooler kit is designed to replace a regular standard factory unit and give greater airflow potential resulting in increased performance and reduce in fuel consumption. The GT2 Tube and fin strong design is also tested withstand high boost in diesel application.
Installation:
Installation of HDi VW Transporter T5 GT2 complete intercooler kit is simple. It comes with all fittings and brackets as well as the unique oil drain plug and boost gauge fitting ports, It is easily installed with basic workshop tools, installation is a quick and easy process normally it takes less than 30 min! The HDi VW Transporter T5 GT2 complete intercooler kit benefit as below:
Improved low end throttle response!
Minimal pressure drop
Large cooling surface area
Increased torque range from low rpm
Reduction of both inlet and out let temperatures
less engine running temperatures
Increased performance
Consistency power increase
Increase power throughout entire RPM range
Improve fuel efficiency
Unique oil drainage port
Built in boost gauge port
Best value for money
The pressure drop is less than 0.2 psi!
Flow area is over 115% increased!
Flow rate is over 185% increased!
Power increase projected 9-15 hp but tongue and throttle response will be big increased.
Peak Boost and peak torque will be 220-350 rpm earlier!
Performance guaranteed!
Full stainless steel screws and brackets the best durability against water and salt corrosion.
The special design allowing high boost application and for city low air flow driving condition. It also allows good air flow to the radiator!