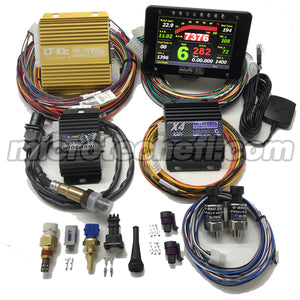 Looking to update your ECU, step up to a digital dash & want to save some bucks? ??????
Then look no further than our LT-10c 13B Street package deal ??
This kit comes with everything you're going to need to not only control the engine, but to monitor & data log everything as well.
Here's what you get in the kit:
* LT-10c ECU & wiring loom
* High boost map sensor upgrade
* X4 igniter with loom
* 5" Pro Dash with data logging & GPS receiver
* Oil & fuel pressure sensor kit
* LSU 4.9 Wideband kit
* Water & air temp sensors
The ECU supplied in the kit is our latest version LT-10c.
This unit features "engine protection mode" which allows the tuner to set up "safe limits" for all the engine sensors in the tuning software. In the event that something turns to shit ?? (for example the engine runs low on oil pressure), the ecu will immediately activate an rpm limiter to alert the driver something is wrong, giving them enough time to shut it down before any serious damage is done ??
The 5" Pro dash in the kit not only displays & logs the sensor & ECU data, but has input for lights on, high beam, turn signal indicators, road speed via gps, odometer & fuel tank level.
The addition of all these inputs to the dash means you no longer need any of the gauges in the factory cluster. Everything can be done through the MicroTech dash ????
Value for money, you would be hard pressed to find something with this many features at a price as good as this ??