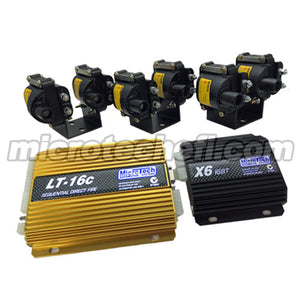 The LT-16c is MicroTech's flagship model ECU. The LT-16c has the capabilities and several features seen on our competitors more expensive units while still retaining MicroTech's ease of installation and tunability, all at an affordable price.
At MicroTech we believe the best place for R&D is at the race track and in the short time since it's introduction to the market in 2010, the LT-16c has already been responsible for several world record setting performances and series championships, proving itself in several types of high horsepower applications and harsh race conditions throughout the globe.
The LT-16c comes standard with 8 injector and 8 ignition outputs and is capable of working with most common engines up to 16 cylinders and 4 rotors and will support most factory ignition systems such as multi coil and distributor as well as aftermarket ignition systems such as CDI's or MSD. However, the LT-16c is most commonly used with the Microtech X6 igniter box providing an extremely high output direct fire ignition system at a very reasonable price.
A new feature for the LT-16c ECU is the addition of a CAN output which will allow the MicroTech ECU to connect directly to most common aftermarket dash loggers such as Racepak, PCS or MoTec. The MicroTech transmits data via the CAN bus at 1 Mbit/second.
The LT-16c is capable of controlling sequential injection on 4, 6 and 8 cylinder engines as well as 2, 3 and 4 rotor Mazda rotary engines and direct fire ignition for engines up to 8 cylinders or 4 rotors, or wasted spark ignition on engines up to 16 cylinders.
Each LT-16c comes factory preset to suit your particular engine combination and sensors and has a base map already installed to allow the end user to turn the key and start the engine once the installation is complete. The factory installed base map has all the basic parameters set and basic fuel and ignition tables loaded to give the tuner a head start and great starting point to work with cutting down on expensive dyno time.