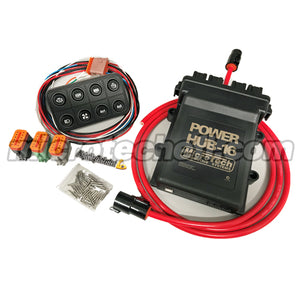 Wiring up your modified street or race car just got a whole lot easier.
The MicroTech Power Hub System replaces traditional fuses, relays and circuit breakers with modern day solid state switching technology, all contained within the one unit.
When using the Power hub, the number of wires used in the car will be significantly reduced, resulting in a shorter installation time and a simplified, easy to follow vehicle wiring system.
The Power hub 16 features:
* 10x 30 amp outputs (expandable to 20x 15 amp outputs)
* 4x 15 amp outputs.
* 2x 30 amp short burst, high current dedicated outputs for starter motor & transbrake.
* User selectable fuse rating for each output
* Min/max current alarms for each output
* CAN input compatible with most popular aftermarket ECU's (MicroTech, MoTec, Haltech, Link, Emtron, OBD 2).
* Optional CAN Keypad/switch panel
* Switch panel buttons customized to each customers specs
* Outputs can be switched using the switch panel, via an external input or via CAN from the MicroTech ECU.
* CAN output to communicate with the MicroTech Pro Dash
* Inbuilt Equalizer (bump box)
* Internal timer to trigger outputs on a delay (for use with fuel/nitrous solenoids, shock timers, clutch lock up etc).
* Internal timer to switch off outputs after the ignition has been turned off (turbo timer, interior light etc) .
* Override function for outputs (for example: switch thermo fan on via temperature from the ecu output, or press the button on the switch panel).
* Engine RPM input
* Deutsch DT wiring connectors
* Laptop programmable. Input/output diagnostic software with real timing monitoring of current draw on each channel, input Voltage and PCB temperature.
Price $1195
Add small 8 way Switch Panel/Keypad $395 (approx. 125mm x 70mm)
Add large 8 way Switch Panel/Keypad $495 (approx. 155mm x 95mm)
Add Longer battery cable $10 per meter (comes standard with 2m)