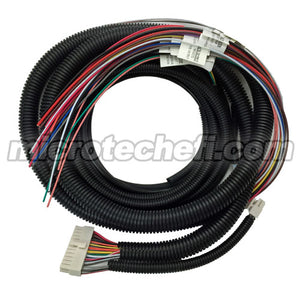 Replacement wiring looms are available to suit the entire range of MicroTech Engine Management ECU's from the MT series onwards. All MicroTech wiring looms come complete with wiring diagram, fuel pump relay, fuse holder and vacuum hose. Each wire in the MicroTech loom is individually labelled to make installation as simple and straightforward as possible.
Please Note: Due to the limited amount of enquiries we receive, and the fact that several of our old model ECU's are no longer serviceable, we no longer keep wiring looms to suit our older model units in stock.
We can still supply looms for our older units, however they will be a custom order and will take approximately 1 week to manufacture.
Due to the extra time involved in making a custom wiring loom, a charge of $100 will apply on all custom loom orders.