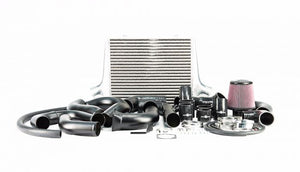 STAGE 3 INTERCOOLER CORE
The Process West Stage 3 Front Mount Intercooler Core for the Ford BA/BF Falcon includes a 500 x 425 x 100mm bar & plate core, which is the largest and most efficient intercooler for the BA/BF Falcon on the market today. This allows for smooth flow and effective cooling of the charge air entering the engine.
The intercooler core is available in both black powdercoated or silver finish
THROTTLE BODY RE-LOCATION KIT
The throttle body relocation was developed for a few reasons:
To have the shortest possible intercooler piping length which gives maximum throttle response.
To give a very neat engine bay appearance.
To have a true 3 inch intercooler pipe size without bonnet rubbing issues. We have found that running 3 inch piping over the top of the engine into the factory throttle body position will cause rubbing on the under side of the bonnet.
All components that make up the throttle body relocation. Relocating the throttle body means that the wiring to the throttle body must be extended but for ease of installation we have developed these plug-in patch harnesses.
UNDER BATTERY COLD AIR INTAKE
Our air intake system is designed to be used in conjunction with our billet plenum or in other custom set ups. It utilises the space normally taken by the factory intercooler plumbing under the battery tray.
Note: This intake is not designed to work if the factory intercooler is still in place