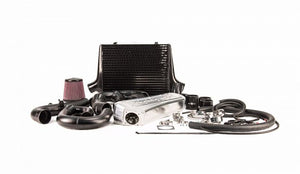 STAGE 3 INTERCOOLER CORE
The Process West Stage 3 Front Mount Intercooler Core for the Ford BA/BF Falcon includes a 500 x 425 x 100mm bar & plate core, which is the largest and most efficient intercooler for the BA/BF Falcon on the market today. This allows for smooth flow and effective cooling of the charge air entering the engine.
The intercooler core is available in both black powdercoated or silver finish
PLENUM CHAMBER
The Process West Plenum of the BA/BF Falcon is CNC Machined to precision from solid billets of 5083 aluminium plate. Billet aluminium is super strong and holds enormous amounts of pressure, nothing but the best for Process West. To promote perfect air flow into the cylinder head each runner entry has a blended bell-mouth. The plenum is supplied with a plug-in throttle body extension wiring loom to allow for installation with no wire cutting, as well as teh option for custom cover plates.
UNDER BATTERY COLD AIR INTAKE
Our air intake system is designed to be used in conjunction with our billet plenum or in other custom set ups. It utilises the space normally taken by the factory intercooler plumbing under the battery tray.
Note: This intake is not designed to work if the factory intercooler is still in place.