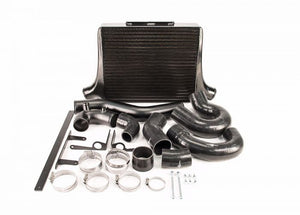 The Process West Stage 3 Intercooler Upgrade Kit uses the same proven intercooler core from our BA/BF Stage 3, with revised end tanks to suit the FG.
Core measures a massive 500mm wide x 425mm in height x 100mm thick, making it by far the largest and most efficient intercooler on the market for the FG.
Kit includes 2.5in hot side intercooler piping, and 3in cold side intercooler piping with a new 3in high flow cast elbow at the throttle body.
Compatible with the Process West 4in Race Air Box and the factory air intake system.