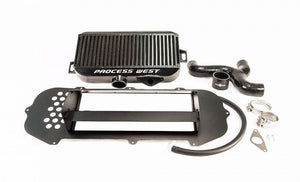 The goal when developing our new top mounted intercooler was to make it the very best aftermarket top mounted intercooler for WRX/STi... period.
We studied our competitors products and fixed all of the mistakes they have made...some of them major.
The most obvious error that EVERY one of our competors makes is not supplying their intercooler with proper ducting/shrouding to suit the increased size of the new intercooler. There is no point in installing a larger intercooler and leaving the factory under bonnet splitter/shroud in place. Here is the solution. A properly sized splitter/shroud to suit the application.
Pictured below is a pic of our top mounted intercooler installed in a 2006 Forester XT. For demonstration purposes we have removed the factory splitter/shroud and placed it on the intercooler as if the bonnet were shut. Its simple to see that 50% of the new upgraded intercooler would be seeing no ambient air flow... total waste of time and money. The picture (below right) is how it should be done. Process West intercooler and splitter/combination showing 100% of the new larger intercooler with full ambient airflow over the entire core.