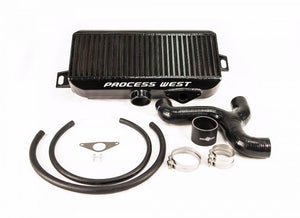 Utilising the a huge 530 x 193 x 90mm bar & plate intercooler core, this is the biggest Top Mount Intercooler that Process West produed for Subarus. This is also currently the largest intercooler for 2015+ models. Included with everything you need to install.
SILICONE Y-PIPE
Also supplied with this upgrade kit is the Process West Silicone Y-Pipe. The Y-Pipe is the connection between the turbo compressor outlet and the intercooler. This pipe due to the design of most Subaru top mount intercoolers, takes the shape of the letter 'Y'. Almost all of the aftermarket Y-pipes we see do not distribute the charge air flow along the intercooler evenly. Their Y-pipe usually consists of one nicely flowing section with an afterthought spout as the second duct.
Once install it is easy to see that the Process West Silicone Y-Pipe will give perfect charge air distribution. Combining all 3 features of out top mounted intercooler gives the perfectly designed top mounted intercooler for Subaru.