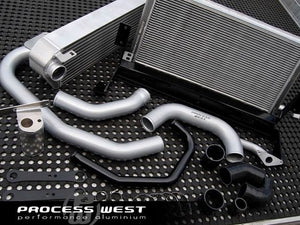 The ultimate time attack cooling system. 2 years in development sees the release of THE best intercooler and radiator combination on the market bar none. Our system has the throttle response of a top mounted intercooler and the efficiency of a front mounted intercooler system. Having an efficient intercooler on a track car is pointless unless you are able to keep the engine cooling under control. The Process West V Mount system uses the very latest in 'stepped' radiator core technology.
The stepped radiator core is designed to mount at an angle of 30 degrees. Although the core is mounted in a laid over position, the ambient air flow through the radiator is still parallel to the road surface. This results in the most efficient radiator that is available for the 01-07 WRX/STI.
ON THE TRACK
Utilizing a massive 660 x 210 x 90mm bar & plate intercooler core, our race track data shows intercooler outlet temps peaking at 45C (ambient temps were 30C), even after a grueling super sprint session in the Jason Wright 450hp STi. Water temperatures were under perfect control at 82C.
Our V-Mount Intercooler cooling system is also used in one the most demanding conditions yet. 650hp, 40 minutes races and 40 degree heat on this race car in Thailand.
ON THE STREET
Tino from WA has built this beautiful 04 STI. Hardware consists of a Process West V Mount Intercooler and the Track billet Process West Intake Manifold with a GT40r turbo. This car is making 529hp at the wheels on 1.9bar which certainly shows the power potential of the V Mount system.