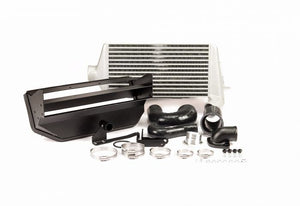 Taking a fresh approach formed from years of motorsport and component design experience, Process West are proud to announce the new 'Verti-Cooler' slant mount intercooler system of the G3 series (2008-2014) WRX. Designed and engineered with rapid air-charge cooling and flow-path efficiency as the key objectives, Verti-Cooler is a revolutionary take on Subaru intercooler design that takes turbocharger cooling to a new and previously un-seen level, guaranteeing the best performance and improved engine durability.
ORIGINAL INTERCOOLING
Computer modeling and real world testing of the factory Subaru Top Mount Intercooler shows that while cooling effectively in short bursts, a lack of exit air path from the bottom side of the intercooler creates a virtual 'traffic jam' of hot air in the engine bay which rapidly reduces intercooler efficiency in demanding conditions. Making the stock mount intercooler larger does improve the rate at which heat-soak occurs but does little to address the critical factor of getting the heated air away from the intercooler body itself.
VERTI-COOLER ADVANTAGE
Verti-Cooler combines the advantages of a large and free-flowing Process West core (400mm flow length, 205mm stack height, 120mm thick) with a design that mounts the new intercooler at a 15 degree, near vertical angle in the engine bay. Packaged with a new hood duct design that force-feeds external airflow straight onto the intercooler fins, there is now a highly efficient air exit path courtesy of the Verti-Cooler mounting angle that flows all of this (now heated) air back down through the engine bay and out the underside of the car through the transmission tunnel for a shallow, cool, and low restriction exit-path. Compare then the near on 90 degree angle that the air must turn with the stock intercooler setup in place, and the advantages of the Process West Verti-Cooler design become clear. Verti-cooler also has the largest volume of any aftermarket intercooler for the G3 WRX with core measurements of 400mm flow length x 205mm stack height x 120mm thick.